New Zealand and Korea: new opportunities
When the KNZFTA came into force it included three education and training-related programmes of interest to New Zealand's international education industry.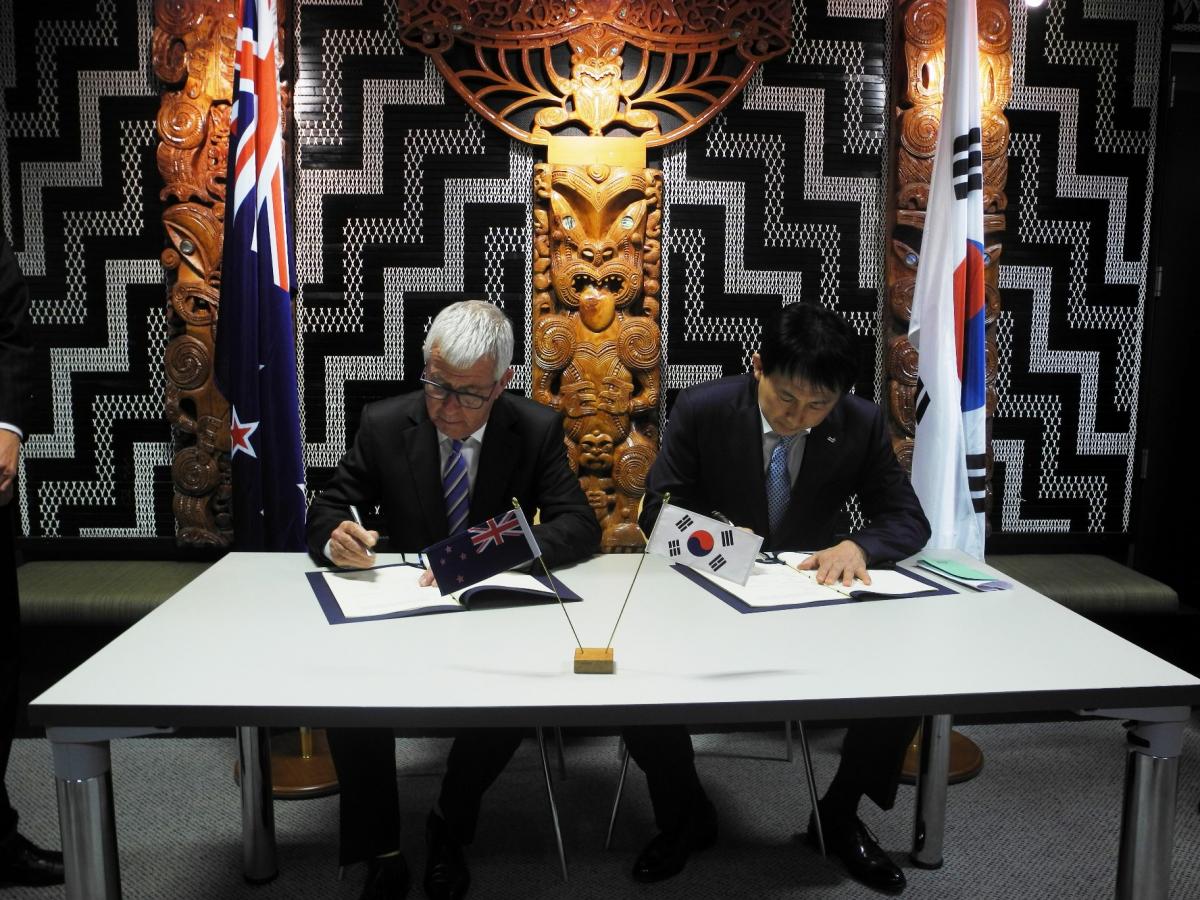 When the Korea New Zealand Free Trade Agreement (KNZFTA) came into force on 20 December it included three education and training-related programmes of interest to New Zealand's international education industry.
The agreement included three education and training related programmes:
The Korea New Zealand Agricultural Cooperation Scholarships (KNZACS) – six postgraduate scholarships, two each in the areas of agriculture, forestry and fisheries.

A schools visit programme – 150 short-term high school scholarships each year for three years.

Primary Sector Training Visas (PSTV) - 50 visas allocated each year.
The first two opportunities are scholarship programmes jointly funded by the New Zealand and Korean governments and a Memorandum of Agreement has been signed between ENZ and the Korean Agency of Education, Promotion and Information Service in Food, Agriculture, Forestry and Fisheries (EPIS) to implement the arrangements. 
Agricultural cooperation scholarships
This postgraduate scholarships programme will provide for six scholarships to be awarded to Korean students to study in New Zealand. Four PhD scholarships will be awarded in 2016 in the fields of forestry and agriculture. Two further scholarships in fisheries will be awarded in 2017 and are open to both PhD and Master's programmes.
An independent expert panel has been established to select applicants for the first round of the scholarship, with advertising of the scheme to commence in Korea in April. Applications will close on 8 July.
For further information on the scholarships, please contact Christine Roberts at ENZ.
Schools visits programme
The schools visits programme will see 150 high school students from rural regions of South Korea selected to come to a rural or semi-rural areas of New Zealand for an eight week period from July this year.
Canterbury, Waikato and Nelson-Marlborough have been chosen to participate in this programme.  Ten schools in each region will host five students each.
The Schools International Education Business Association (SIEBA) will operationalise the programme on behalf of ENZ. If you are a school in the above regions, a Code signatory, a member of SIEBA, and wish to be involved in this initiative we encourage you to contact SIEBA.
Primary sector training visa (PSTV) 
The New Zealand government has established an annual quota of 50 primary sector training visas which allow the Korean government to place students with New Zealand training providers in the areas of agriculture and fisheries.  
The training programme will involve three months' English language and vocational training in relevant courses, followed by up to nine months' paid internship placement in a New Zealand work place. 
ENZ is not involved in the implementation of this programme, however we are able to introduce interested and experienced providers to EPIS for programme development and implementation. 
The Korean Agency of Education, Promotion and Information Service in Food, Agriculture, Forestry and Fisheries (EPIS) is currently seeking interested providers for the fisheries programme. Eight students are allocated for this stream. If your institution is able to offer a three month English and fisheries training programme, and have established relationship with fisheries workplaces for a minimum of six months' paid internship placement, please get in touch with Cecily Lin who can connect you with EPIS.
Preliminary information is provided below: 
1. What are the academic backgrounds of these students?
The students will be either current students in fisheries high schools or universities, or recent graduates from these institutions within the last two years.  The students' majors will be directly relevant to fishery studies.
All students will be aged 18 or over. 
2. What are their levels of English proficiency?
The applicants will be required to demonstrate an appropriate level of English to communicate with their local employer and teacher. EPIS will grant scholarships to students via international certified English tests e.g. TOEIC, TOEIC SPEAKING, OPIC. 
3. What is the intended outcome of the three months' training programme? 
To achieve an appropriate level of job performance skills in their work and improved English language skills. 
4. What is the intended length and level of internship?
At least six months immediately after the training.
5. What is the expected level of payment to the students during the internship? 
The payment must be at the New Zealand minimum wage or above.
6. What are the requirements for participating education providers?
Providers must be Category One. 
 Above: The EPIS and ENZ teams.