New Zealand education in focus during Prime Minister's trip to China
Education New Zealand Manapou ki te Ao (ENZ's) CE, Grant McPherson, joined Prime Minister Rt Hon Chris Hipkins on his trip to China in June, spreading the word that we look forward to welcoming Chinese students back again.
Education elements featured strongly in the Prime Minister's Trade Delegation to China helping raise the visibility of New Zealand as an education destination for Chinese students.
To launch the trip, the delegation joined the Prime Minister at a Showcasing New Zealand event held at the New Zealand Embassy in Beijing to promote New Zealand as a travel and study destination. ENZ invited key media, influencers, and Chinese and New Zealand students to interact with the Prime Minister. This sparked significant local news coverage, amongst leading Chinese state media, setting the tone for the visit and highlighting the significance of international student exchanges between New Zealand and China. New Chinese media outlets also were seen covering New Zealand education as a topic for the first time.
The Prime Minister also gave an address at Peking University to students, media, and the New Zealand delegation. To read the full speech, please visit the Beehive website.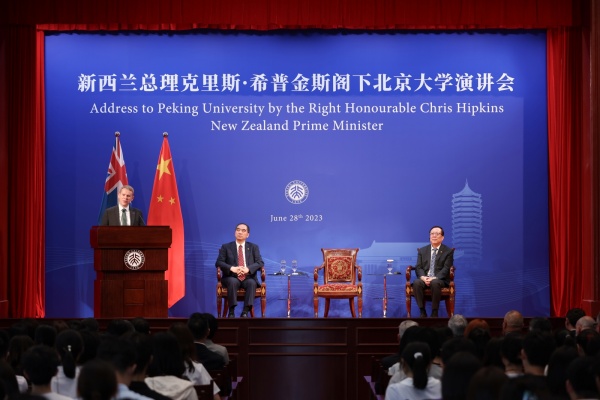 Peking University is host to the New Zealand Centre. Established in 2007 as a collaborative project between Peking University and the University of Auckland, the New Zealand Centre at Peking University has grown to represent all eight of New Zealand's universities and enable high-level engagement across a range of departments and faculties. During the visit to the University on 28 June, the Prime Minister, with Hao Ping, Chair of Peking University Council and Gong Qihuang, President of Peking University, the Ambassadors of New Zealand and China, and representatives of the New Zealand Centre launched the Rewi Alley Professorship.
There were also other several significant developments in our bilateral education links with China that were achieved while there. These included:
Signing of the Arrangement on Mutual Recognition of Academic Qualifications in Higher Education between the Ministries of Education witness

ed

by Prime Minister Rt Hon Chris Hipkins and Premier Li.


Signing of a Strategic Partnership between Education New Zealand and Air New Zealand to support international education mobility and joint promotion in China. To read more, please visit the article on ENZ Collaboration with NZ Inc Agencies in China.


The education delegation meeting with the Vice-Minister of Education Chen Jie (responsible for international cooperation) and China Ministry of Education officials. The meeting underscored the importance of a strong government-to-government relationship and provided a chance to showcase the education sectors present within the New Zealand delegation and discuss areas of existing and potential cooperation.


A Sustainability Roundtable with a focus on education involving the education sector delegation and Chinese education partners.
It was a busy, challenging, insightful and ultimately very rewarding week. The education delegates also shared their own feedback. John van der Zwan, Executive Director Schools International Education Business Association reflected that the mission to China was hugely valuable and a chance to get high level insights into working with Chinese officials and agents following the pandemic.
"The mission was also a special opportunity to engage with the Prime Minister and other government officials on the role and importance of international education for our school sector," he said.
Executive Director of English New Zealand, Kim Renner, noticed the shift in how New Zealand is profiled in China compared to many years ago and echoed the response from other delegates that the visit was valuable for the representatives of the education sectors.
"China is a development market for most of our members, so it was a great opportunity for English language to be part of this important delegation, particularly the meetings with the Vice Minister of Education and JJL Overseas Education Agency."
"While seeing the country is a key part of study travel, we know that inbound students also want an immersive experience focused on people, cultural exchange and making connections. This was certainly showcased during the visit and was received very positively by all those we engaged with", added.
ENZ would like to offer its sincere thanks and congratulation to everyone who was involved in the preparation and planning for the visit and gives special recognition to the education sector representatives on the Prime Minister Trade Delegation.