13 November 2019 at 9:00 am
New Zealand experience grows global indigenous network
The presentation of a bespoke pare whakairo to a US university demonstrates the role of international education in building and sharing indigenous culture.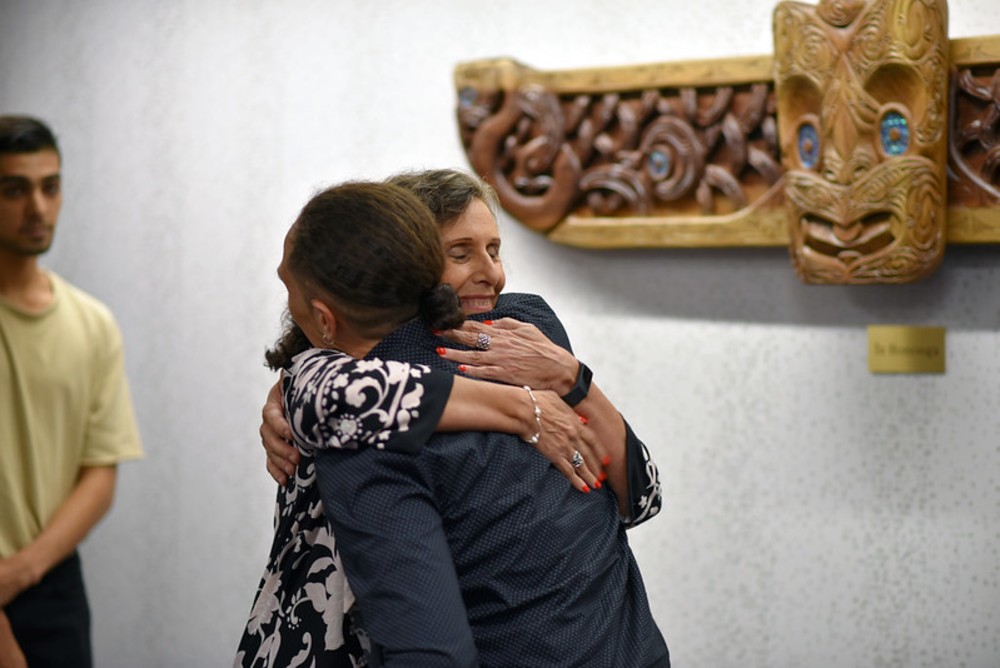 A special bond forged through a Study Abroad programme, involving Vermont's Champlain College and Auckland University of Technology (AUT), was marked by the gifting of a unique pare whakairo (carved doorway mantel) to the US College in September.
Called Te Hononga (The Convergence), the pare whakairo was created by kaiwhakairo (Māori carver) Pahi O'Carroll over four weeks in residence on the Champlain campus. 
The pare is unlike any other. It is carved from a wood native to the area – black walnut – and evokes values, beliefs and traditions common to both Māori and the indigenous people of Vermont, the Abenaki.
The relationship between Champlain and AUT dates back five years, when New Zealand Honorary Consul and trustee of Champlain College, Dr George Burrill, first established a study abroad exchange programme between the two institutions. To date, over 100 students have participated.
One of the highlights of American students' time at AUT is the Noho Marae programme.
"Every year students tell us how the Noho Marae programme has profoundly impacted them," ENZ General Manager – International, Lisa Futschek, says. "It turns them into lifelong advocates for New Zealand, its education system and Māori culture."
Run by AUT Senior Lecturer in Māori and Indigenous Development, Jason King, the mini-course includes basic Te Reo Māori, Māori mythology, waiata (songs) and cultural customs. It includes with a noho marae (weekend-long marae experience). 
King describes the course as "the base of a tree, from which branches and leaves grow". 
"The course puts indigenous goggles on students," he says. "It opens them up to areas of discussion with their own indigenous people.
"My ultimate aim is to connect us not only globally, but indigenously."
Thanks to their connection to Māori via AUT and the Noho Marae programme, Champlain College made a formal connection to their own indigenous people, the Abenaki tribe. A representative from the Abenaki was present at the unveiling of Te Hononga. 
Many US students choose to keep in touch after they return home through the student-led Whānau Councils. These were first established in 2010 after students from Europe were so moved by their AUT marae experience that they set up their own group to maintain their connection to New Zealand and each other. There are now three Whānau Councils across Europe and the US actively supported by AUT.
For the European council's 10-year anniversary, members of group are planning to return to New Zealand – this time with their partners and children.
"We tell them during the Noho Marae, after studying in New Zealand you are whānau for life," King says.