22 September 2022 at 10:30 am
New Zealand successes at PIEoneer Awards 2022
Our international education sector achieved global recognition at the annual PIEoneer Awards in London on 9 September 2022.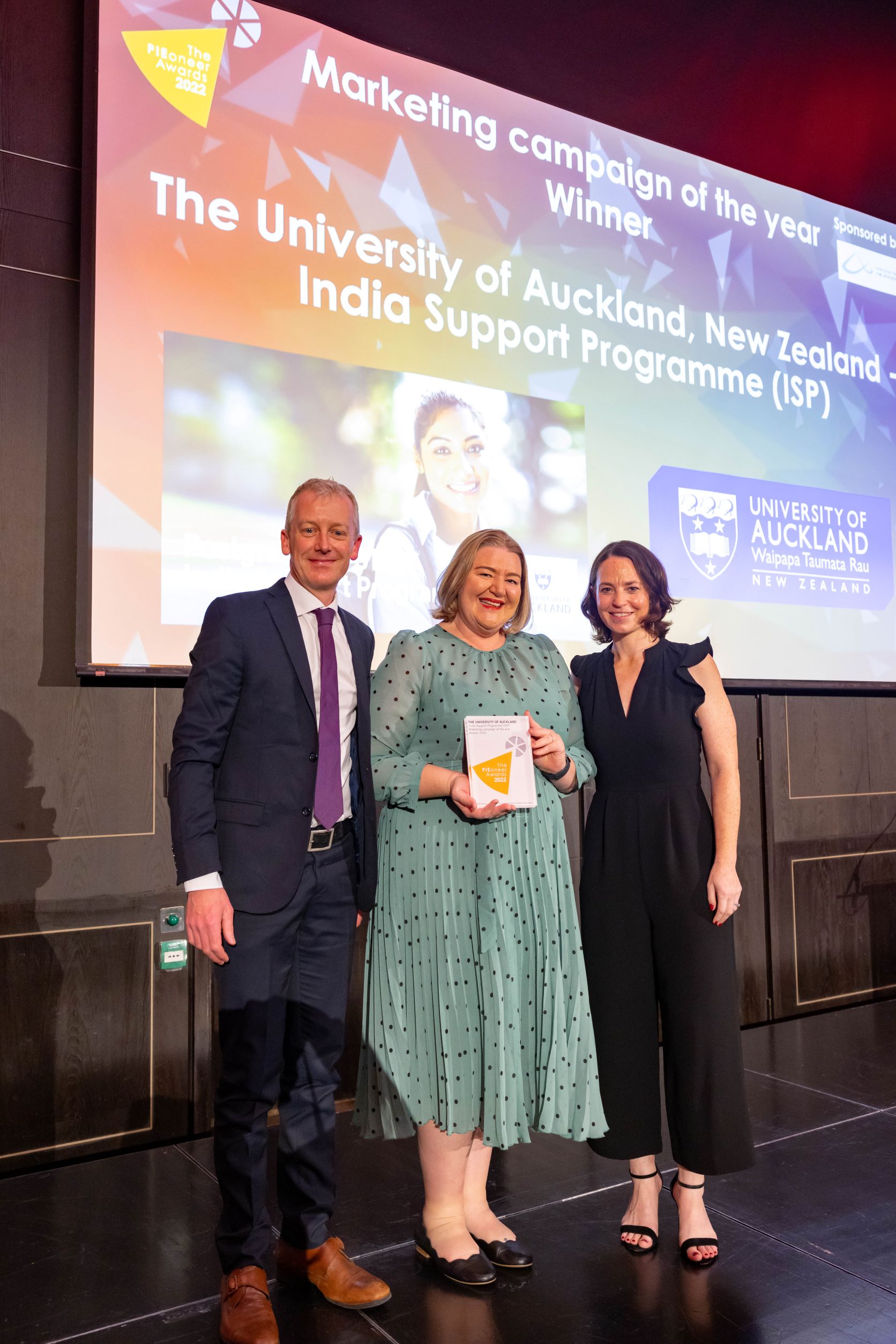 Congratulations to the University of Auckland's India Support Programme, which won Marketing Campaign of the Year against some strong competition. Congratulations also to Ngā Hononga-ā-Kiwa (University of Waikato), for being highly commended in the Championing Diversity category, and to Intern Abroad HQ, which was highly commended in both the Real Life Learning and the Sustainability International Impact categories.
These awards are highly sought after as they recognise innovation and achievement in global education. Around 550 people from around the world attended the event in person, with hundreds more online.
The University of Auckland, New Zealand: As India is the university's second-largest source market, the India Support Programme was the perfect opportunity for Auckland to promote its support options to students, to provide them with a better experience and to build and maintain brand presence in the market. It created a short, simple, and effective basis for its campaign: 'We are with you, until you can be with us in New Zealand.'
Ngā Hononga-ā-Kiwa: In 2021, Ngā Hononga-ā-Kiwa (University of Waikato) had the highest Māori student population out of all New Zealand universities. It used two work streams to fill knowledge and opportunity gaps including the newly-created Māori Education stream, which created a tangible resource that informs educators and youth on how global citizenship is defined from a Māori/indigenous perspective, and Māori Business for which 24 students received full scholarships.
Intern Abroad HQ, New Zealand: Intern Abroad HQ continues to evolve its internship portfolio, even in a hard year like 2021. It expanded its range of placements and made sure remote and overseas internships aligned to at least one of the UN's Sustainable Development Goals. It also launched the exclusive Experiential Learning Curriculum, a guided reflection course incorporated into all its internships, bridging the gap between interns' studies and careers.
The New Zealand Global Competence Certificate, which is a collaboration between Education New Zealand Manapou ki te Ao, AFS Intercultural Programs and Massey University Te Kunenga ki Pūrehuroa, was also a finalist in two categories of the awards.
ENZ sponsored the PIEoneer of the Year Award, for the organisation or individual who can demonstrate their commitment to improving the global education industry and show how their entry has genuinely changed the landscape we operate in. Grant McPherson presented this year's award to AMOpportunities from the United States, which aims to provide clinical training for schools, hospitals, and students globally. To date, more than 3,600 students have gone through the platform and completed rotations at 250+ clinical sites. With partners such as UChicago Medicine, MedStar Georgetown University hospital and more across the US, numbers look set to keep rising.