Online education pilot with FutureLearn enters second phase
Education providers are invited to take part in phase two of a pilot programme to promote New Zealand-branded online education to the world.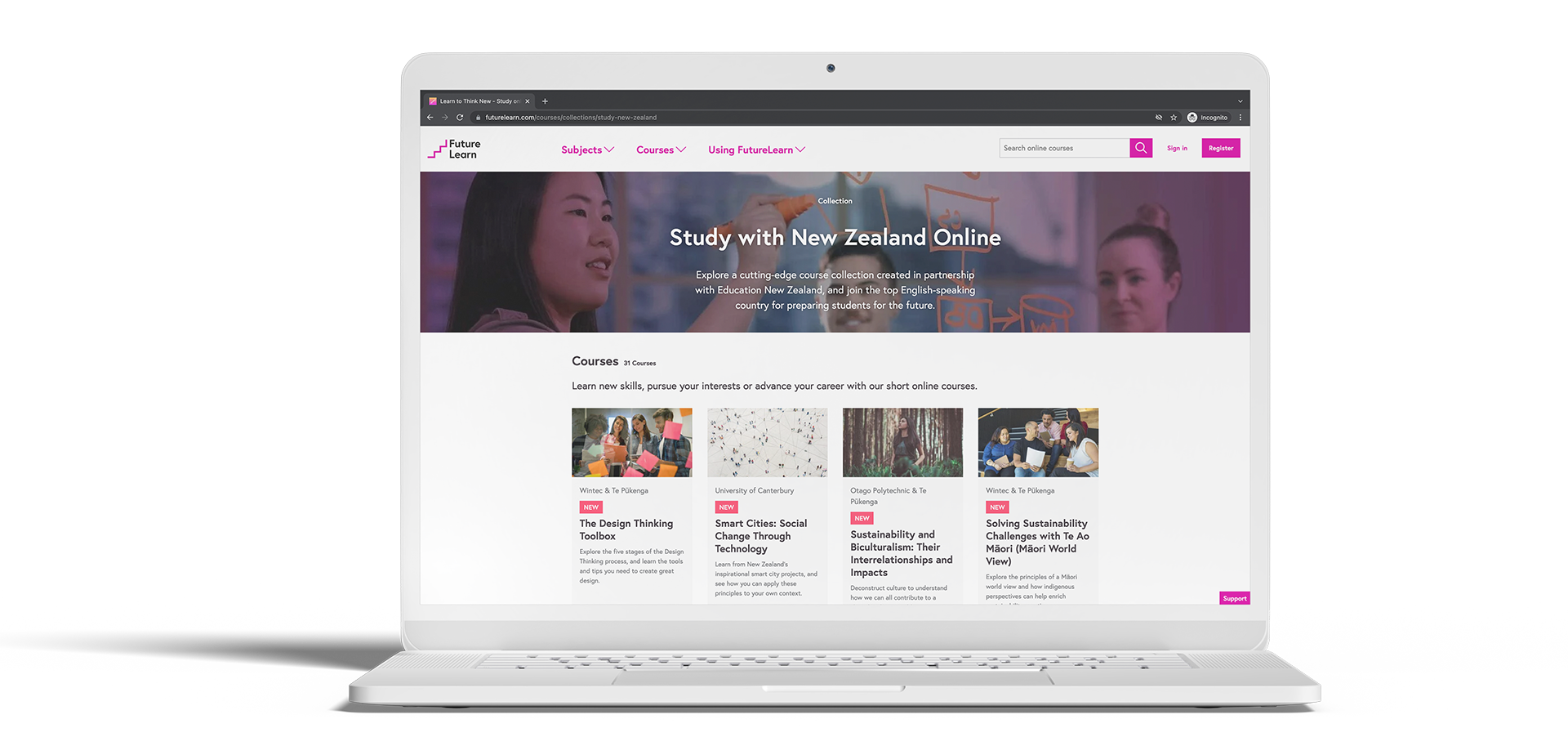 A webinar for interested providers on 31 March will be followed by an international campaign from 30 June to end of September 2022.
Education New Zealand Manapou ki te Ao will again partner with FutureLearn, a London-based platform with a global learner base of 17+ million people. The successful first phase saw 22 online courses from New Zealand providers attract more than 80,000 enrolments from learners in over 200 countries, highlighting the potential of online study platforms to reach new global audiences.
The focus of this second phase will be on how to convert an online audience into a sustainable commercial proposition for New Zealand-based providers.
We are interested in hearing from providers who have online content ready to go, or who are confident they can develop online content quickly. We are looking primarily to include short, taster courses (6-20 hours of learning). There is also scope for short credit-bearing courses, including micro-credentials.
This opportunity is open to both registered and non-registered education providers, EdTech companies, regional economic bodies and others. If you have education content and you're interested in participating, please register for our information webinar on 31 March 2022 to find out more.
Participants have told us that the benefits of this initiative included being able to explore online distribution models and understand more about who the online audience is, and how they behave in a learning environment. It also presents an opportunity for providers to test and learn at low cost and with low risk, as well as profiling their brand to a global audience.
Online education is part of a programme of work to diversify international education products and services, in line with the New Zealand International Education Strategy 2018-2030.
Phase 1 pilot with FutureLearn
Through the first pilot we confirmed there is demand for online courses from New Zealand providers, willingness by many in the sector to pilot online learning, and that New Zealand courses can attract learners in full-time employment.
View the New Zealand Collection on FutureLearn here.
You can explore the data and key insights we gathered from the first phase in our report here:
Download our report about FutureLearn Phase 1
Key dates:
31 March 2022 – Pilot #2 Information webinar
30 June to end of September – Campaign goes live