Physically distant, digitally connected
ENZ has launched a new digital campaign focused on supporting and connecting international students in New Zealand during the COVID-19 pandemic.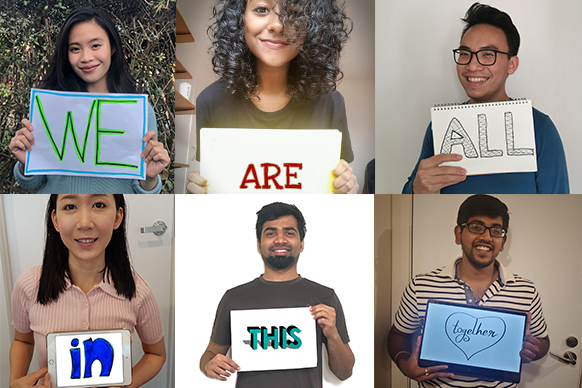 Since early March, the team's strategy for student-facing content has prioritised three areas: keeping students updated with official information about COVID-19 in New Zealand, supporting their wellbeing, and keeping New Zealand top of mind for prospective students, so we are well-positioned to recruit new students when borders reopen.
Our main focus is on supporting and connecting with international students within New Zealand, and helping them connect with each other.
The campaign takes a three-pronged approach to this through:
Growing our audience on NauMai NZ

through a digital advertising campaign

so that we can offer more students information and support to enhance their experience. The '

Stay well, stay connected

' page on NauMai NZ is a main landing page for website traffic coming through the campaign.

Connecting students

through our

International Student Support Facebook Group.

We have transitioned the 'Ask New Anything' Facebook group into the 'International Student Support Group (NZ).' This private group is a space for international students in New Zealand to connect with one another, ask questions, find help and offer advice. The group currently has 2,300 members including 475 new member who have joined in the past two weeks.

Concentrating on content created by students, for students.

We are predominantly using content made by students on our channels to present their own authentic experiences, through blog and video content and weekly Instagram live Q&A sessions.
Check out our YouTube playlist 'International students in lockdown in New Zealand because of COVID-19'. As we move out of lockdown and into Alert Level 2, we will continue to support students with relevant content.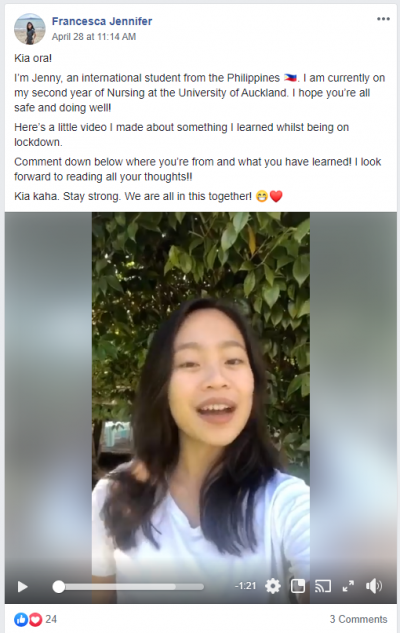 China channels
To ensure we're reaching our Chinese students on the channels that they use, we are running a Chinese version of the campaign specifically for this audience. We are doing this by:
New content
Keep an eye out for new content across our platforms and social media channels, including NauMai NZ, Study in New Zealand, our Facebook page, Instagram, YouTube, WeChat and Weibo.
As you can see, there is a lot happening in the student content space at ENZ. We are working hard to ensure much needed information and support is provided to the many international students who are still in the country, as well as continuing to engage with the prospective students in our database and across our social media channels.