13 April 2023 at 11:30 am
Report concludes international education can recover and grow
Research commissioned by Education New Zealand Manapou ki te Ao from EY found that international education's contribution to the New Zealand economy, has the potential to grow and could return to pre-pandemic levels by 2030.
In 2019, international education's direct financial contribution to New Zealand's GDP was $3.7 billion using the Computable General Equilibrium (CGE) methodology. This contribution was reduced to an estimated $0.8 billion in 2020 by the pandemic. The CGE methodology applied by EY to determine the contribution was supported by MBIE and MoE and is more rigorous than previous analyses.
Having established the direct financial contribution, EY explored the extent of the indirect longer-term contribution to New Zealand's GDP from the small proportion international students that remain in New Zealand after completion of their studies.
EY found that international students living and working in New Zealand in 2019 and 2022 contributed economic, social, cultural, and international benefits. Using NZ Statistics Department IDI data and CGE modelling, EY found that these students contributed in the order of $6 billion in the form of labour supply and productivity to New Zealand's GDP in both 2019 and 2022.
Determining this contribution involved estimating the GDP output and wage impacts associated with New Zealand educated international students who remained in New Zealand and transitioned into the domestic workforce in the 10 years leading up to each year.
ENZ Chief Executive, Grant McPherson said, "This report confirms the tough time the sector has had over the past two years, highlights the contribution it made in the past, the contribution it makes beyond economic value, and tells us that it is possible to become a vibrant, sustainable and resilient sector in the future."
The majority of international students, 62%, return to their country of origin after they have completed their studies. A further 13% leave New Zealand after their post-study work experience meaning that in total 75% have returned home after three years, according to the research.
More broadly, EY concluded there is evidence that international education can enable New Zealand students to develop global competence within a structured teaching environment, and contributes to soft power in diplomacy, trade and perceptions of New Zealand through a range of mechanisms. Broader impacts for Māori are potentially also present across each area of impact from international education. These impacts were not directly quantifiable.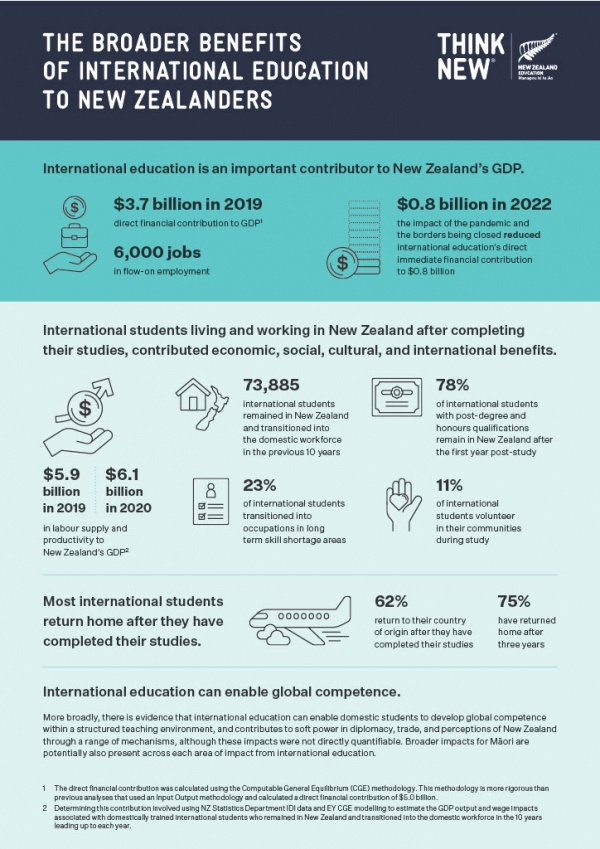 For a full-size image of the infographic, click here. For a full copy of the report, click here.