12 November 2014 at 9:00 am
Student ambassadors appointed in Christchurch
The Christchurch Educated International Student Ambassador programme is a new initiative to enhance the experience of international students by creating an additional support network of trained and culturally appropriated peers.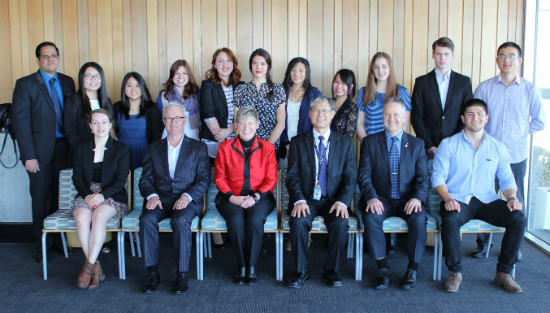 "The Student Ambassador programme is one of several initiatives aimed at better supporting international students so that they make the most of their time in Christchurch and perhaps encouraging them to stay longer in the region," said Richard Ashmore, International Student Pathway Coordinator with Christchurch Educated.
"It is also a great personal development opportunity for the new ambassadors who will receive training and the chance to expand their own international networks."
The inaugural group of ambassadors is made up of 14 students from New Zealand, Australia, Afghanistan, India, China, Japan, Malaysia, Russia and the Philippines.
"Some of the New Zealanders in the group benefitted from similar programmes during their own overseas study experience and want to help others in the same way," said Richard.
Izzie Guo arrived in Christchurch in 2009 totally unprepared for the shock of landing in a foreign environment with only a limited understanding of the language. She was fortunate to have amazing support from her homestay mum and senior classmates to help her adjust to a lifestyle, language and living environment vastly different to the one she had left behind in China. Now Izzie is looking forward to helping other international students faced with the challenges that come with embarking on a learning experience in a new country.
"I have always wanted to help students new to Christchurch. I remember when I first arrived. I had many difficulties and so many people helped me in many ways. I want to give a little help and hopefully that can make a difference," said Izzie.
The student ambassadors are studying at mostly tertiary institutions including the University of Canterbury, Christchurch Polytechnic Institute of Technology, Southland Institute of Technology, along with Middleton Grange and Kaiapoi high schools. 
The student ambassadors were received into the programme by Christchurch Mayor Lianne Dalziel in mid-October. In addition to their mentoring duties, the ambassadors will represent Christchurch Educated and the city of Christchurch at official functions and international education visits and events. They will start in their roles as fully trained ambassadors in January 2015.
Interest in the roles was so high that a second group of ambassadors will be inducted into the programme next year.