25 August 2022 at 12:00 pm
Two new sector-facing leadership roles at ENZ
We have recently made some changes to our leadership team, to ensure we are well placed to work on the rebuild of international education. Changes include two new roles in our senior leadership team with a specific focus on working directly with New Zealand's international education sector.
GM Sector Engagement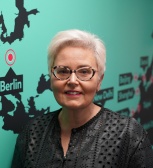 We look forward to welcoming Wendy Kerr to Education New Zealand Manapou ki te Ao (ENZ) on 3 October 2022. Ms Kerr will take up the newly-created role of General Manager, Sector Engagement.
Joining us from fintech Valocity where she was Global Chief Operations Officer, Ms Kerr has rich experience in both education and commercial businesses globally.
Prior to Valocity, she was Director of the Centre for Innovation and Entrepreneurship at the University of Auckland. She led the team there to transform the Centre and enabled the University to be recognised as Entrepreneurial University of the Year in the Asia-Pacific.
Ms Kerr is also Board Director for The Icehouse and sits on the Board of Epsom Girls Grammar. Previous roles include General Manager for Pearson PLC London, and Asia-Pacific Marketing Manager for Apple. She has been a TEDx speaker and has published a number one bestseller on Amazon - 'Corporate Crossovers'. Ms Kerr has a Ngāti Mutunga and Moriori heritage and will be based in our Auckland office.
The Sector Engagement group delivers strategic initiatives in partnership with sector partners and stakeholders, undertakes business development, and designs and delivers new products and services.
GM Sector Services
Sahinde Pala was recently appointed to the newly-created role of General Manager, Sector Services.
Ms Pala joined ENZ in 2016 after 18 years working for a multinational group of English language schools. With a career dedicated to international education, she brought extensive private sector experience in international marketing, stakeholder engagement and student experience delivery to the organisation.
Ms Pala has held a number of roles at ENZ working with education providers, government stakeholders, regional groups, peak bodies, students' associations and community groups. She was heavily involved in developing the International Student Wellbeing Strategy.
With a passion for delivering an excellent customer experience, Ms Pala will be leading the newly formed Sector Services team to deliver a suite of products and services that support the sector to rebuild and thrive. This includes student experience, global citizenship, global events, and agent engagement, as well as scholarships to support domestic students to have an international education experience, and international students to study in New Zealand.
Sahinde is based in our Auckland office and spends her time outside of work standing on the sidelines of sports fields supporting her young boys.
View all senior leadership team members here.