Interning in Shenzhen, China
Jack Cutler studied computer science at the University of Auckland. After graduating he applied for the PMSA and did a three-month internship with a start-up in China.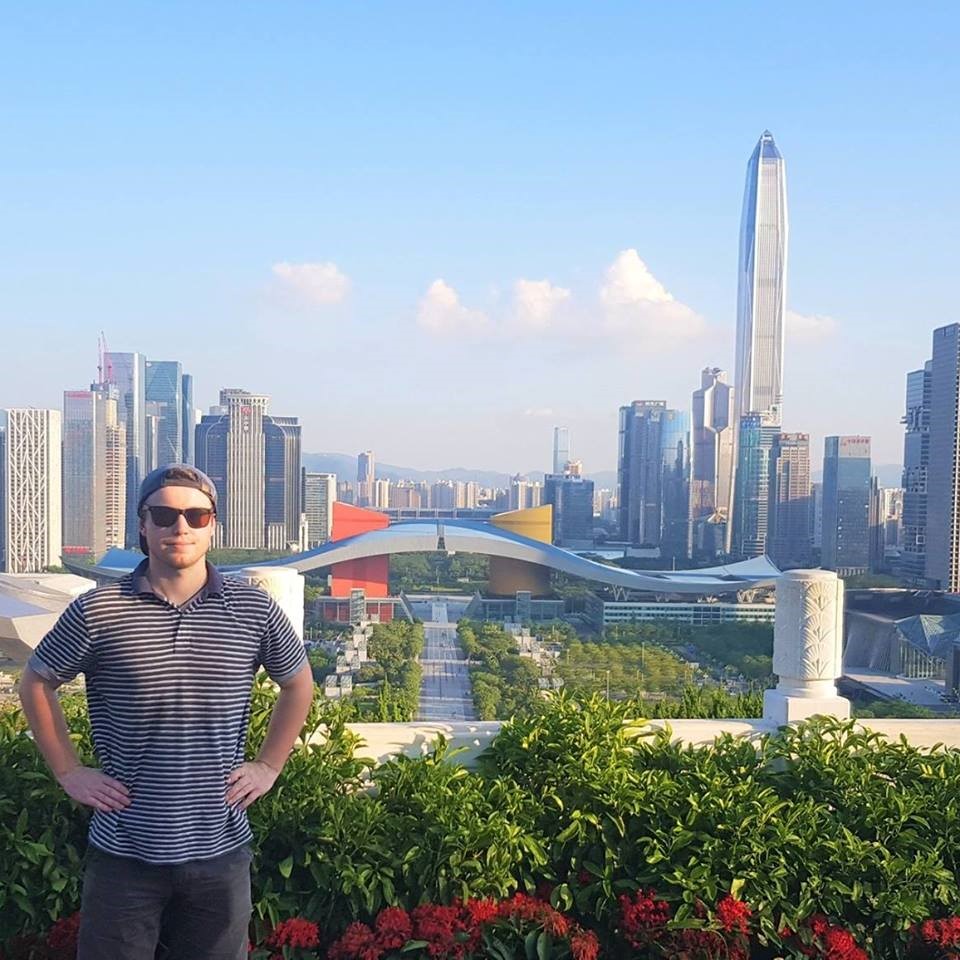 I've spent most of my life living in Auckland, so travelling to China for an internship was quite the experience. I saw an advert from Career Development and Employability Services (CDES) at the University of Auckland on Facebook, applied straight away, and was stoked to make it in.
I was fortunate enough to secure an internship at a blockchain start-up in the city of Shenzhen, often referred to as the "Silicon Valley" of China, located in Mainland China right on the border with Hong Kong (which you can see across the harbour). My role saw me coding websites, giving presentations on video games to developers, designing, marketing and even being the face of the company at technology conferences. I learnt a lot about international business and Chinese culture – which is vastly different to New Zealand.
During my internship I was sent to the USA. The company had plans to expand into the Western world, so being a Kiwi who was comfortable with public speaking, my employers thought it would be advantageous to showcase just how international our business was by having me as the face of the company in America!
I spent two weeks travelling in Las Vegas and Chicago. While in Las Vegas, I went to two blockchain conferences – one where I was given the opportunity to speak on stage on the topic of "Why should we decentralize the gaming industry?", which is the main goal of our company. It was an incredible experience, sharing the stage with notable influencers in the industry including Gary Vaynerchuk (American-Belarusian entrepreneur) and Steve Wozniak (American philanthropist and tech entrepreneur who co-founded Apple).
After Vegas, I flew to Chicago – one of the most impressive cities in the States. The amazing river cruise that runs through the city provides views of the great architectural history, not to mention the delicious deep-dish pizza Chicago is famous for! My company sponsored a blockchain conference, where my role was to introduce the company to potential partners as well as getting involved in the Chicago blockchain community, meeting some great people.
"Experiencing other countries gives a wider perspective of business, as well as skills to approach tasks in a different way you might not have thought of. Moving to a foreign country is something I feel more people should do."
The PMSA gave me the opportunity to express my independence and confidence by travelling overseas to work and furthering my knowledge and experience from what I'd learnt at university. Not to mention seeing some amazing sights throughout China!  I was lucky enough to get out of the city every other weekend, from exploring the Li River in Guilin by bamboo raft to looking over the picturesque West Lake in Hangzhou. Each place has its own unique culture and flavour. Southern China is truly beautiful, with cloudless blue skies and some amazing beach days in 30-degree weather (or hotter).
CDES were extremely helpful throughout the whole process of planning for and heading off on my overseas internship. They made sure all the interns were comfortable travelling to China before the internship, and Catherine Stephens, the CDES manager, was always on hand to answer all my questions. Even now, they continue to help me with cover letters and CVs for job applications.
My advice to students looking at internships is to look at overseas opportunities. Experiencing other countries gives a wider perspective of business, as well as skills to approach tasks in a different way you might not have thought of. Moving to a foreign country, especially one where you don't speak the language and that has a vastly different culture to your own, is something I feel more people should do. At first it can feel daunting but when you embrace it you will absolutely love it!
I'm so grateful for this opportunity and am now filled with a thirst to continue to learn about other cultures, as well as to keep up my Mandarin. And I'd like to go back to China again to visit the friends I made while I was there.