25 August 2022 at 1:00 pm
From the CE: Welcoming back our international students
Kia ora tātou. It's been encouraging these past few weeks to see stories popping up around the country about international students being warmly welcomed back into New Zealand communities.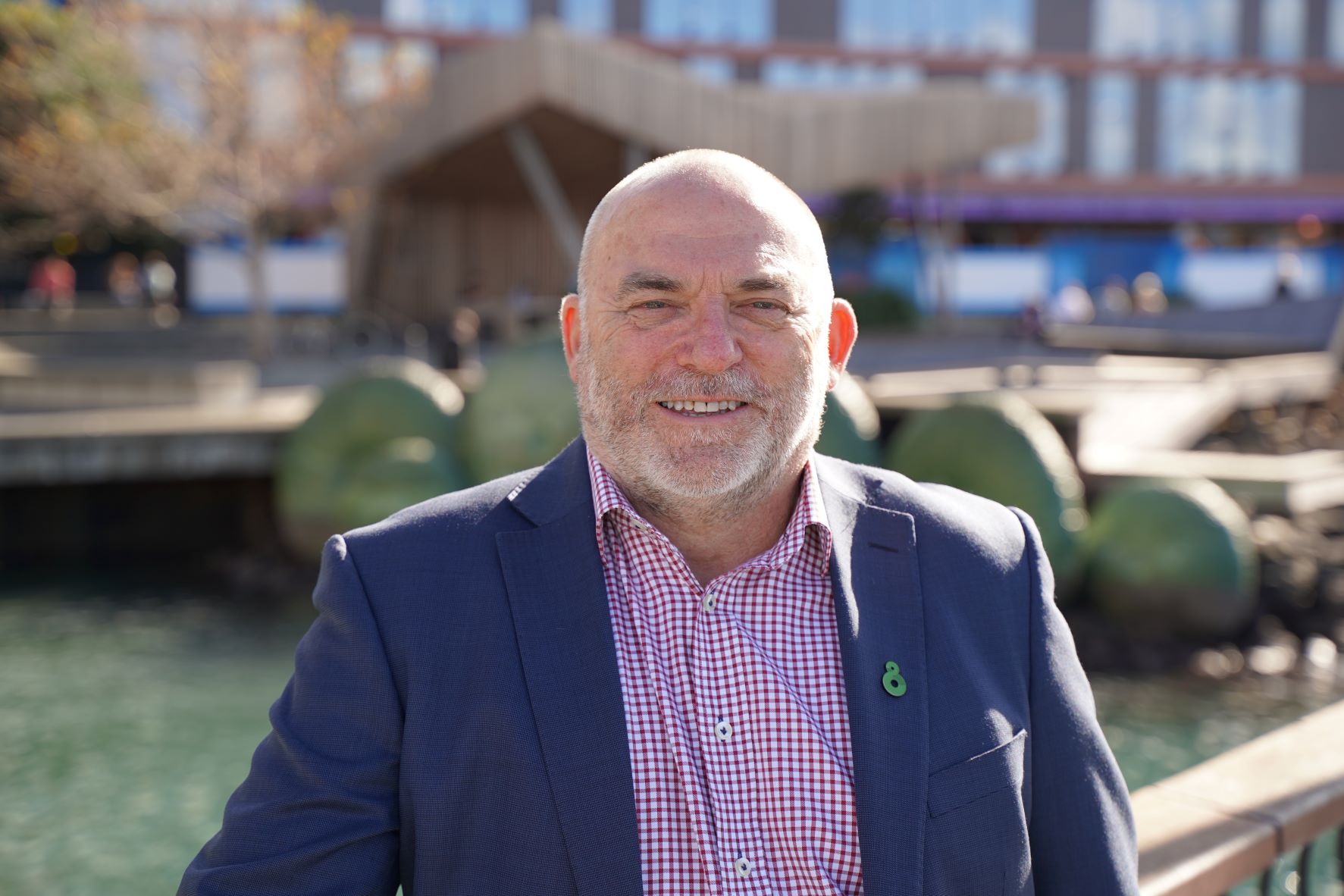 Many of these students have travelled to New Zealand for the first time, leaving their families and friends behind to explore a New Zealand education experience. It's a big deal for them, and for us. Normal student visa processing only just resumed a few weeks ago, and so most of the students are here thanks to the cohort processes that you supported, or as short-term visitors from visa-waiver countries with strong links to New Zealand.
Thank you for making them so welcome, and for sharing their stories through the media. Education New Zealand Manapou ki te Ao has been pleased to support these welcomes by providing Tū Ngātahi pins to share with the students. The pins were created to welcome and demonstrate our support for international students – Tū Ngātahi is a te Reo Māori phrase calling us to 'stand together'. The Pikorua twist design is inspired by the pikopiko fern, whose fronds curl around one another, which is a symbol of the connection of cultures and the importance of friendship.
You can read about the recent international student welcome at Waitangi in this edition of E-News, and I'm looking forward to meeting students in Christchurch later this week.
Our 29th international education sector conference, NZIEC KI TUA 2022, finished on Friday – what a great event! There were some exceptional speakers, fascinating discussions, not to mention a few funny moments behind the scenes. The virtual conference, with its themes of Reflect, Reconnect and Renew broke previous records by attracting 1,065 attendees. Thank you to all of you who took part and helped make this such a successful event. All the sessions were recorded, and they will remain available to you on the event portal until 16 September 2022.
As I mentioned at the conference, ENZ has recently made some changes to our leadership team, to ensure we are well placed to work with you on the rebuild of international education. We now have two new roles in ENZ's senior leadership team that are specifically focussed on meeting your needs as a sector: GM Sector Engagement, and GM Sector Services. The newly appointed GM Sector Engagement is Wendy Kerr, who will join us in October. Sahinde Pala, who will already be well known to many of you from her work at ENZ since 2016, has been appointed GM Sector Services. In addition, the role of Ed Tuari as our Manukura - Chief Advisor Māori is now also part of the senior leadership team. This change reflects the importance of our work to transform the understanding of international education and ensure the education system delivers with, and for, Māori in the international context. Wendy and Sahinde are both profiled in this edition of E-News, and you can see the full senior leadership team on our website here.
Finally, I want to acknowledge the work done by our international teams every day around the world, on behalf of New Zealand's international education sector. There are numerous stories in E-News each month that provide a glimpse of some of their activities. In this issue, you can read about new scholarships, digital exchanges, workshops for education agents, education cooperation agreements, and more.
He rā ki tua
Better days are coming
Ngā mihi,
Grant McPherson